The ImageMerger tool is a tool for combining images taken by a robot controlled camera:
4 calibration images to determine world/robot coordinates (4pt-calib)
Logic to determine robot positioning for each subimage
100% driven by ExecuteCmd interface
The tool does nothing during an inspection

Instructions for use
Prerequisites

The connected camera should have camera calibration active. The calibrated images must be rotated so that pixel rows/columns are parallel to the "world" coordinate y and x axes, respectively.

Calibration

Four distinct marks with known "world" positions must exist on a calibration object
Position the camera over each calibration mark, note the robot coordinates, and execute SET/CALIBIMAGE for each

Setup

Specify the "world" coordinates to cover and required subimage overlap

Running

Command GET/GRIDSIZE returns number of subimages in X and Y position
Loop over required subimages, execute SET/GRIDINDEX for each, then GET/ROBOT to get required robot position. Position the robot and execute SNAPSHOT
To create/display a partial output image, execute MERGEPARTIAL
When the required images are taken, execute MERGE to create the output image

Setup
[Reference - Reference system selection; not currently used]
Output image - name of image to present result
Grid calculation - parameters to determine "world" grid
Image start - "world" coordinates for upper left corner of resulting image
Image end - "world" coordinates for lower right corner of resulting image
Overlap (%) - subimage overlap - may be used to fine tune image positions
Grid size - (R/O) - number of subimages needed in X and Y position to cover "world"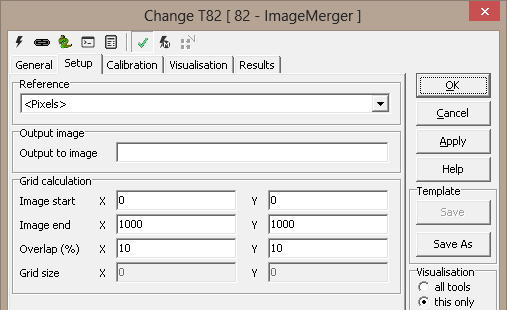 Calibration
Input image details
Should be read from camera calibration. Pitch is not currently available.
Size - (R/O) - pixels
Pitch - (to be R/O) - pixel size in object coordinates
Calibration positions
Position (1-4) - world position of calibration mark
Robot (1-4) - robot position when image was taken
Set (1-4) - acquire image, store and calibrate if possible
Input - name of input image for calibration images when Set buttons are pressed
Calibrated - shows green check when calibration is completed
Blob analysis
Currently, the largest blob found in the calibration images is used as the calibration mark.
Threshold min/max - blob threshold
Morphology - erode/dilate
Smooth factor (count) - blob smoothing
Calibration images
The four images are stored, visualising the result of the blob analysis.
Delete this - delete shown calibration image
Delete all - remove all calibration images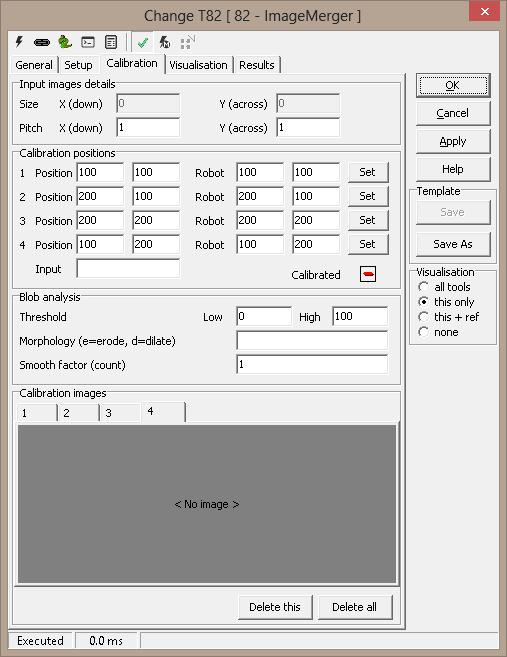 Visualisation
(None)

Results
(None)

ExecuteCmd support (see also executeCmd)
Command

Parameters

Return values

Comments

Get
Object=Calibrated
ok,True|False
True if calibration is completed, False otherwise
Get
Object=ImageStart

Object=ImageEnd
ok,(x;y)
"World" corners for complete image
Get
Object=Overlap
ok,(x;y)
Overlap percent in X and Y directions
Get
Object=GridSize
ok,(x;y)
Number of subimages needed to cover "world", in X and Y directions
Get
Object=GridIndex
ok,(x;y)
Zero-based index of current subimage
Get
Object=Robot
ok,(x;y)
Required robot position for current subimage
Set
Object=ImageStart;Value=(x;y)

Object=ImageEnd;Value=(x;y)
ok,None
"World" corners for complete image
Set
Object=Overlap;Value=(x;y)
ok,None
Overlap percent in X and Y directions
Set
Object=CalibImage;Number=<n>;
ImageName=<name>;
Position=(x;y);Robot=(x;y)
ok,None
Set calibration image with all corresponding information
Set
Object=GridIndex;Value=(x;y)
ok,None
Zero-based index of current subimage
Delete
Object=CalibImage;Number=<n>
ok,None
Delete calibration image
Snapshot
-
ok,None
Acquire subimage
Merge
-
ok,None
Compile output image from taken subimages
MergePartial
-
ok,None
Compile intermediate output image from taken subimages
Reset
-
ok,None
Remove all taken subimages and reset GridIndex