The demonstration profiles are valuable examples and demonstrate Scorpion's capabilities as a vision system. They get their images from file and give a good insight in Scorpion set up and operation.

This description is valid up to Scorpion 9.0. From Scorpion 9.0 there will be samples on the CD but the most important source is the Scorpion Vision Installer - check here.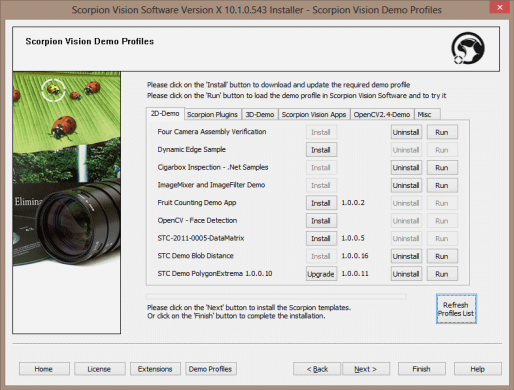 A number of such profiles with corresponding presentations are included on the Scorpion CD. The Getting Started exercises lead you through the basic Scorpion system concepts. The Robot Vision Start and Final are the profiles to go for if you are looking into robot vision.
Select Start-up on the CD to install one or more of the demos.


Load the profile's zip file and save it in the Scorpion\Archive directory.


Start Scorpion. Go to the Windows Start menu. Select Start - Programs - Tordivel Vision Solutions - Scorpion. A profile selection dialog is then shown.


In the dialog window, right click the mouse and select Restore. (See the profile selection dialog.)


In the folder coming up, browse to the Scorpion\Archive directory where you saved the zip file and open it.


The Profile is now in the dialog window and you can open the application by double-clicking on it.
Check the requirements for demos.
On the CD there is also a directory of example demo profiles - Examples. They are installed in the same way.
After installation, you'll find a shortcut to the profiles under the Windows Start menu in the Tordivel Vision Solutions\Scorpion program group. You also find a shortcut to the Scorpion User Manual in the same program group.