The history list is an important part of the Scorpion offline system verification.
The latest measurements are shown in the image list. A number identifies each image taken. The time and the classification result (the state) are additionally given in the list. By selecting an entry in the list, the image is displayed in the Image window to the left on the screen.
Keeping only fail images
It is possible to only keep the images that is defined as FAIL in the history.

This is configured in the Settings.State - for each fail state the option Keep in History is activated for all others deactivated.

This feature is used to collect fail or selected images. The history list can be used to process, verify proper system setup or to store them for further system verification. This is a very valuable function.

History List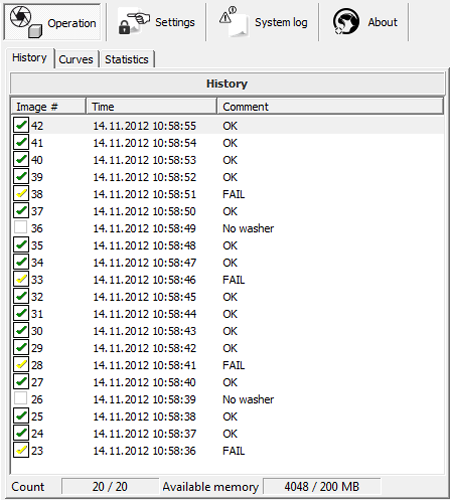 Popup Menu

By pressing the right mouse button, you see a small menu.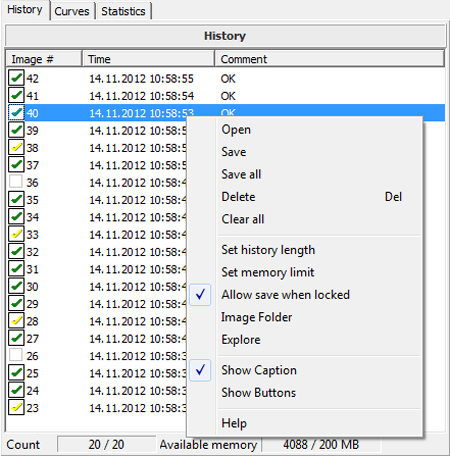 Open - will load images from disk
Save - will save image from history list
Save all - will save all images to disk
Delete - Del - will delete image from list
Clear all - will empty list
Set history list - will define maximum length
Set memory limit - define low limit for free memory before reducing history length
Allow save when locked - save can be enabled when in running mode
Image Folder - select default image folder
Explore- open windows explorer
Show Buttons - shows right hand button bar
Help - activates help buttons
Service Toolbar Navigation is used to verify system operation swiftly
The Service Toolbar contains history list navigation buttons. The buttons makes it easy to interactively modify and verify the toolbox configuration.