The Scorpion IO Modules is new in Scorpion Version X.I.





The status panel at the top of the IO system displays:
The ON / OFF button

Counters

IO Image
The ON/OF Button has the following right mous click menu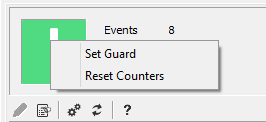 The user can reset counter and link the ON / OFF button to a dynamic guard in the tag database.
The IO system is added to the Scorpion by adding a page from the Page Adminstrator.

IO System Architecture
The IO System is designed to have the following properties and features:
Significantly reduce the cost of implementing IO systems using Scorpion Vision Software

To handle multiple IO devices

To provide a means to simulate IO without connecting the actual IO device

Ability move / change IO signals easily between io-devices

Make it easy to add support for io-devices

Be a high performance IO system

Have a log to monitor the events and changes.
The system is well connected with the Scorpion Vision Software event system. The following units is included:
Signals - defined by Module, Signal and its Value
Module - defined by Name, Driver and Poll rate
Events - an event is connected to a Signal transition and has an user defined action
The screen below shows the three main elements of the system
Status Panel

Signals list

displays the name, module, connection, value and error code

Eventlog