Page Administrator
The Page Administrator manages user defined page tabs in the right pane of the application. The pages are created based on page containers defined by the Scorpion application.
The image below shows the Page adminstration tab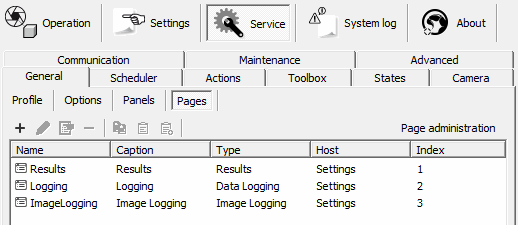 The following operations are available:


- New - creates a new page


- Edit the page setup


- Configure - activates the property page of the page
Not all page type has a property page


- Copy page


- Paste page from clipboard


- Delete -removes pages
When creating a new page or editing a defined page the following dialog is shown: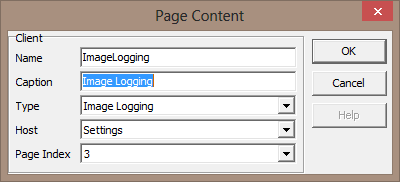 Name - the name of the page - displayed on the tab
Type - the type of page

The following types are supported:

Web Browser
Data Input

Data Logging

Image Logging

IO

Results
Custom Page

Host - where the page is located in the application

Operation
Settings
Service
Service - Advanced

Page Index - where in the tab sequence the page is located
CustomPages are populated by .Net Controls, get window handle with GetCustomPage method or Scorpion Plugins.